Jurassic World: Dominion Dominates Fandom Wikis - The Loop
Play Sound
Frothlands
/warp frothlands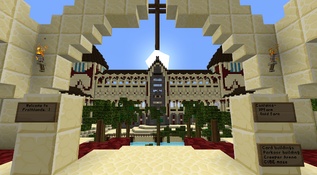 Created by Frothington Constructions
Frothlands started because something was needed at the end of the road south of Chukazuma, then it grew like a rabid fungus.  
Frothlands features- 
An XP farm, with Zombies & Skeletons for your xp needs. Look for the sandstone & Netherack building with fire all around it. 
Portal Pigman farm, for gold, GOLD I tell you. You can't miss it, it's beside the XP farm & has large portals above it. 
Frothies Card Collection in three buildings, Broke it up a bit to reduce lag.  
Froth's Jumping Puzzle building, You don't get any agility skill tho, it's just for "Fun" (fun in this case means torture). 
The Cube maze. /warp Cube . What's that? You don't hate Frothington?? Well fear not, the Cube Maze will soon fulfill your Frothington hating needs.  
Temple of BOOM. Pit your skills against the Creepers. Don't bring anything you can't live without though, you will probably die & lose it all. Seriously, Dem creepers like nothing better than blowing you up & then blowing up all your gear. D: 
The Battery - Sick of killing the usual mobs? Why not come to the Battery & kill bats. Those bastards have had it too good all this time swanning around in caves & giving you a heart attack. Now it's time for payback. Fun for all the family. 
back to Places